Innovation Talk Series: Innovations Driving the Future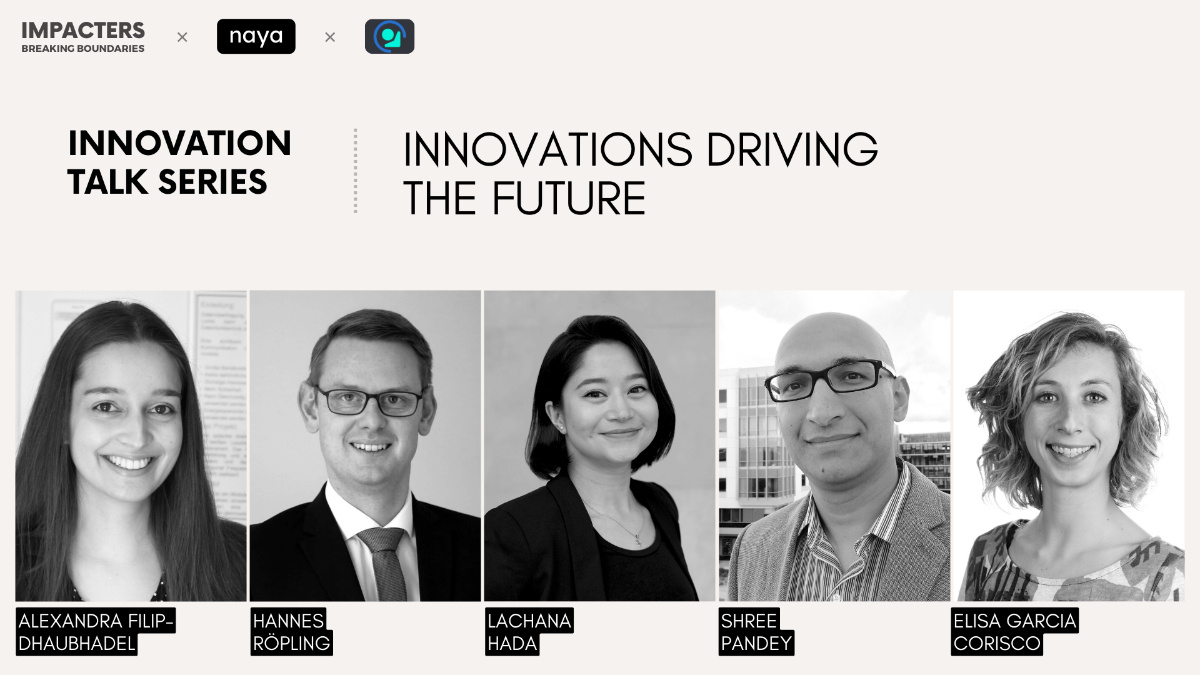 Impacters, in collaboration with Naya and IT Club Pulchowk Campus, is proud to present the Innovation Talk Series where the industry leaders leading changes in different fields of Science, Technology, Engineering and Mathematics (STEM) will get together to talk about the innovations that are driving the future. Join us as we discuss the latest developments and trends and their potential in revolutionising the world!

7th May, 2022, 12:00 PM - 2:00 PM (NPT)
Virtual Seminar, official invitation to follow
Registration now open! Limited seats.
Registration Deadline: 4th May 2022
Click here to apply.

Speakers:
Air traffic control surveillance and challenges
Alexandra Filip-Dhaubhadel, Research Scientist at the German Aerospace Center (DLR)
Surveillance is one of the key functions of an air traffic management system, responsible for providing a highly accurate picture of the sky to the ground controllers, enabling them to track and safely direct aircraft. Ensuring the provision of accurate surveillance services at all times is therefore of crucial importance. Of concern in this respect are a number of incidents that rendered aircraft invisible to the air traffic control. Among these incidents are the 9/11 terrorist attacks on the twin towers and the MH370 airplane effectively "vanishing" without a trace in thin air. This talk will provide some insights into the surveillance technologies used for air traffic control and my research work which is aimed at providing accurate backup surveillance services for civil aviation.
Bringing new trends to life in aviation industry
Hannes Röpling, Head of Flight Line H135/H145 at Airbus
What are the new trends in aviation industry and how can they be realized? What is it like to be a mechanical engineer working in an aviation industry? Where are we headed next?
The future of heart procedures: Creating new treatment options with AI
Lachana Hada, Senior Software Engineer and Solution Architect at Laralab
From open heart surgeries to minimally invasive heart valve replacement surgeries, heart procedures have come a long way. Now Artificial Intelligence and Machine Learning are redefining these procedures to make cardiac surgeries safer, reliable and available to everyone. This talk will focus on how we can employ Machine Learning to create new treatment options for the unserved heart diseases.
Future of AI innovations with 5G
Shree Pandey, Senior Director of Technology at Qualcomm
We will discuss 5G and AI, which are the key ingredients for fuelling the next generation of technology innovation. This talk will shed some light on how AI is becoming more distributed through 5G and how mobile is becoming THE pervasive AI platform. 
Improving radiotherapy treatment with thermo-3D technology
Elisa Garcia Corisco, Project and Feature Engineering Team Leader at Exactrac Dynamic at Brainlab
Technology has improved the accuracy of radiotherapy treatments over the past 20 years. Now, again, we want to make a difference by using 3D-thermo information, which provides 4D patient data that allows us to monitor small regions of interest during treatment.